Image Credits: Jonas Leupe

If you are a mobile advertiser, you might be wondering about how the COVID-19 pandemic is impacting performance marketing, so that you can scale your campaigns accordingly. We hear you! At Apptrust, our mission is to help our partners achieve their mobile promotion goals by growing their apps. We understand that there is a need for clarity around scaling user acquisition campaigns in these unprecedented times.

So, with the aim of bringing some clarity and providing support, we have looked into how the COVID-19 pandemic has impacted the performance marketing landscape in 2020. Based on this data and our own mobile advertising experience, we have also put together some tips to help you successfully navigate the Coronavirus pandemic. We have split this in-depth report in two, so stay tuned for part 2. Let's get started.

Overview of Mobile User Trends in Q1 of 2020

It's clear that consumers' needs have rapidly shifted in Q1 of 2020, which has strongly benefited some verticals and highly penalized others. Having observed leading brands' and mobile user behavior during the Coronavirus pandemic, we have put together an overview of the best and least converting verticals.

As many countries remain in lockdown mode and travel remains on hold in the foreseeable future, we don't predict that these trends will shift gear in the next few months.

Business, education, news and social are among the strongest verticals
The first thing to note is that mobile usage has gone up during the pandemic in key markets including China, the US, and other European markets (see graph above).


When it comes to mobile app downloads, SensorTower clearly illustrates the impact of COVID-19 on the global app ecosystem in Q1 of 2020 and the clear contrast between verticals such as business and travel.


In addition, the mobile attribution platform Branch saw the finance, news, money transfer and games verticals taking off during the worsening of the pandemic.This indicates that during social distancing, many mobile users are turning to apps to entertain and educate themselves. Given the unpredictability of the Coronavirus pandemic and its impact on the job market, users are also becoming more financially-savvy and looking into additional income revenue streams.

Finance and trading apps are on the rise
Sadly, the livelihoods of many have been affected by the lockdown measures, whether through the loss of jobs, pay cuts, or the forced closure of brick-and-mortar stores and hospitality venues.This economic crisis seems to have created an entrepreneurial shift amongst smartphone users, who have been increasingly using business and finance apps.

As AppAnnie reports, business apps globally have seen a record-breaking 90% YoY growth in downloads. Cryptocurrency is also a booming sector, with trading and forex apps such as Etoro and Olymptrade both reporting a rise in users and revenues in the last few months.

Social Media Apps Usage Has Majorly Increased
During the lockdown, mobile users globally have been spending more time on social and connectivity apps to stay in touch with friends, families, and colleagues. As TechCrunch reported WhatsApp, Facebook and Instagram saw a 40%+ increase in usage between 18 to 34-year-olds in the dates of March 14 to 24, across 30 markets. In addition, Instagram and Facebook Live views doubled in a week's time, Facebook said.TikTok dominates social as the most downloaded app in March 2020 (SensorTower). You can credit TikTok for setting quarantine trends including dance challenges, "cloud raves" and coronavirus memes. Obvious.ly analyzed data from 2,152 TikTok influencers and saw engagement on the app jump by over 27 percent from February to March 2020.Conversely, the increase in time spent is not easily monetizable on social platforms. Twitter and Facebook are reducing their ad revenue expectations for the rest of the quarter despite having large traffic increases, a pattern being repeated across digital publishers (eMarketer).

Who hasn't downloaded a video conferencing app in the last month? With the majority of firms introducing remote-working schemes for employees, these apps have gone from commodity to necessity. Between March 15 and 21, AppAnnie reported growth in downloads for Zoom, HouseParty, Microsoft Teams and ZOOM Cloud Meetings of up to 30x higher across four key markets (see graph above). Side note: ZOOM has a secret beautifying filter option which we are partial to using. Here is how you can set it up. You're welcome!

A surge in learning and fitness apps downloads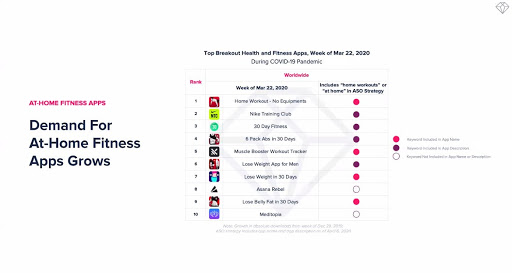 Many mobile users have been making the most of #selfisolation to pick up a new skill, read more books or to get fitter.Meditation apps are going strong. Understandably, anxiety is on the rise globally and as Vox reports, it is fuelling demand for digital mental health tools.Apps likeMeditation and Headspace have adapted by offering custom membership plans, such as free premium membership to healthcare professionals.With gyms currently shut, the fitness vertical is booming. AppAnnie has shared that smartphone users have been searching the terms "home workouts" and "at home workouts" in the app stores - so if you have a fitness app, now's the time to refine your ASO strategy accordingly.

Fitness app usage surged between January and March 28, contributing to a new global record of 113M hours spent in-app.Education apps are also being used like never before, with downloads reaching a 90% growth during the peak of the COVID-19 pandemic in March 2020, AppAnnie reports. This can be credited not only to mobile users wishing to pick up new skills or languages but also due to many education systems moving to a remote learning model. As schools and universities remain closed, both teachers and students are using tools like Blackboard and Duolingo for a mobile-first approach to education. We predict the rise of more education-based apps or in-app features to answer the increasing demand. Watch this space

Gaming and entertainment apps are breaking records
It's clear that consumers like to play games to stay entertained during lockdown, as March 2020 was the best month ever for mobile game downloads globally, with installs up 51 percent year-over-year to more than 3.3 billion, reports SensorTower. Weekly mobile game downloads increased by 80% in China and the strategy simulation game Plague Inc. became the most-downloaded premium app in Italy and the US.16 major games companies tracked performance across 50 markets in March. They shared that 2.74 million games were downloaded during Week 12 (Monday, March 16 - 22), a jump of 52.9% from the previous week. Italy, the country that has been in lockdown for the longest since March 9, saw digital download sales rise by 174.9% in the first lockdown week (Gamesindustry.biz).What about entertainment apps?With nearly all public events on hold, consumers are seeking out entertainment on streaming services like Netflix and YouTube, as well as music apps Spotify and Tidal.As Similarweb reported, daily active users for Netflix's Android app have increased 8.5% over the last quarter, the biggest increase since Q1 2019. However, as The New York Times adds, desktop is performing better than mobile for streaming services, given that users have access to larger screens at home. Worldwide unique visitors to netflix.com hit an all-time high in March 2020.

In Europe, entertainment apps— including Netflix, Disney+ and Twitch—grew by 28 percent month-over-month in March to 132 million downloads.Other app categories that are steadily growing include News, which grew 66 percent from February and 65 percent from January; Health & Fitness, which saw 46 percent more downloads compared to February and 25 percent more compared to January; and Productivity, which saw a surge of 38 percent from February and 36 percent from January (SensorTower).
Dating Apps See Unusual Growth
We can all agree it's a strange time for dating - and yet, dating apps are booming. In February and March 2020 Tinder remained the highest-grossing non-game app worldwide (Sensor Tower) and 10 out of the top 100 apps on the iTunes store are dating apps.Despite lockdown measures, we remain social creatures – so downloads and engagement of dating apps have actually increased. In fact, between March 5 and 10, OkCupid reported a 7% increase in new conversations. During the second week of March, active users on Bumble also rose by 8% (Bloomberg). A study of more than 8,000 people shows that since the Spanish government declared a state of emergency, the use of Tinder has increased by 94.4% among those under 35 (Bloomberg).There has been a 188% increase in mentions of coronavirus on OkCupid profiles in March, meaning that the Coronavirus has actually helped singletons start conversations and connect. The overall data indicates that dating and avoiding other people might not be mutually exclusive, as smartphone users are using dating apps to connect remotely and keep themselves entertained.This dichotomy reflects a contrasting trend in mobile app spend: while some advertisers have stopped promotions in their dating apps, others are investing more budget at this time. Only time will tell how this interesting sector will evolve during lockdown.

Check out part 2 of this series with more mobile advertising insights and our tips for managing your UA campaign during the pandemic.

Are you looking for support to grow your app and manage your mobile performance marketing campaigns? Drop us a line at
partners@apptrust.io
.
We'll also be attending
White Nights Conference
's WN Hub in the coming week (22-30 April) to gain some gaming insights and network digitally.
Hit us up
if you'd like to connect!
Author: Elizabeth Marchetti