Image Credits: Cristian Musolino

We are back with part 2 of our in-depth look at how the COVID-19 pandemic has impacted the performance marketing landscape in 2020. Read on below for our industry insights and to get some tips for your mobile advertising campaigns in the next few months. If you missed part 1, you can find it here.

Boost to eCommerce as shopping goes digital during the lockdown
Would you have ever guessed toilet paper would have become the most prized necessity of the lockdown? No, us neither! Whether to avoid supermarket queues, to help flatten the curve or for health reasons, many consumers turned to eCommerce.

Mobile usage of online grocery apps globally spiked in the week of March 15 (see graph). As eMarketer reports, 50% of Chinese and 31% of Italians are shopping online 'more frequently' to purchase products they'd usually buy in-store. With many consumers taking up DIY projects and redecorating at home, maintenance apps also had a steady rise before declining in the week of March 15.Southern Europe has seen the biggest shift pre- and post-lockdown. Italy and Spain have among the lowest rates of eCommerce penetration in Europe at 4 percent and 5 percent of total retail revenues respectively, according to the Centre for Retail Research. Yet during lockdown, many people in these regions became exposed to online shopping for the first time, the FT reports. In Italy, supermarket chain Carrefour said online customers had doubled to 110,000. As experts warn, the retailers who can integrate stores and shopping technology will finish on top after the coronavirus.Sales of non-essential items such as fitness equipment, fashion, toys, books, clothes, etc. have also increased, putting pressure on eCommerce companies such as Amazon to meet a coronavirus-related wave of demand. Disposable gloves and bread makers among the fastest growing eCommerce categories in the US, with suitcases seeing the biggest decline, unsurprisingly.
Meal kit delivery services and food delivery sales have soared during pandemic

With restaurants closed, the coronavirus outbreak forced more people to rely on food delivery apps like Uber Eats and DoorDash and meal kit delivery services, leading to sales soaring for HelloFresh in Europe.Accordingly, apps in the 'Food & Drink' category on iOS saw a 97% increase in programmatic ad spend in March 2020 (Pixalate).With demands for online deliveries soaring, companies have increased their prices. This has forced food delivery apps to promptly respond in solidarity by adapting their business model. For example, GrubHub has waived fees from restaurants and DoorDash has cut restaurant commissions in half. Meanwhile, Uber Eats has launched partnerships with supermarkets to help delivery of essential items, Reuters reported.

Sports, Travel, Dating and Transportation Take the Biggest Hit
Sports apps suffer major losses
March is usually one of the highest-converting months for sports apps, including betting and gambling. However, with all major sporting events cancelled due to Coronavirus fears (including the June 2020 Olympics being postponed to 2021), this vertical has been one of the most negatively affected.

Pixalate shared that ESPN and NBA apps saw up to -99% decrease in ad spend on iOS in the US market in March 2020. In an unexpected twist, frustrated gamblers have turned to politics to get their betting fix (did anyone say U.S. elections?). In the US, BookMaker betting site reported that while sports betting is down by 80 percent, their handle in political markets is up 200 percent in March 2020.

Travel and Transportation take a hit
As citizens across are asked to limit their travel out of the home, the transportation industry has inevitably taken a hit.

The UK saw a significant drop in app installs for transportation and ride-sharing apps Uber, Bolt and Ola. While all these services have implemented Coronavirus safety measures, it seemed to have little impact on consumers' behaviour.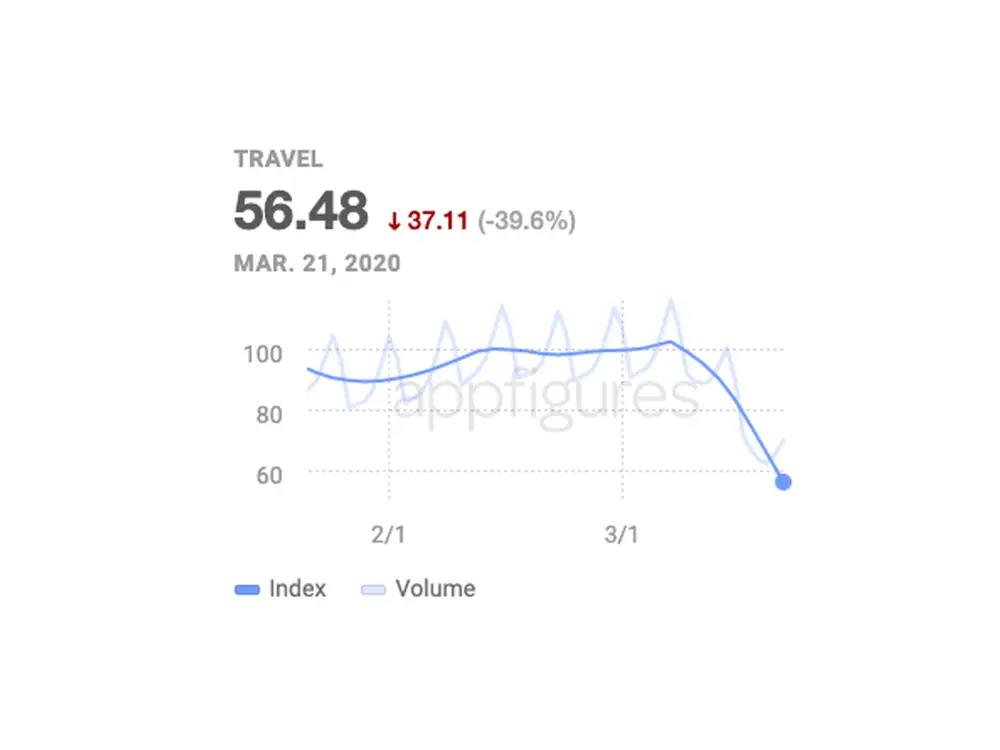 With experts giving contrasting views on when travel will resume – some say in the summer, others in autumn and others in 2021 – the travel industry is waiting with bated breath to get out of standby mode. In the meantime, travel app downloads have dipped (see graph above) globally.

Our Top Tips for Mobile Advertisers During the Coronavirus Pandemic
Now that we have explored the mobile app trends in detail, we share are our top 3 tips for managing your performance marketing campaigns in the next few months.

Habits have changed: adapt business model and app functionalities accordingly.
With the pandemic, we have redefined what "normal" means. Is there such a thing anymore? As we have seen, mobile user trends have defined the odds in many ways. It's unlikely that consumer behavior will regress, so players in the mobile advertising industry must adapt to consumers' changing needs during the pandemic - and those who are more flexible in embracing the uncertainty will benefit.Take dating apps, for example: in a bid to curb face-to-face meetings during the pandemic, they are pushing to keep the majority of the relationship in-app by tweaking their interface to make it more relevant to the current climate, or rebranding video-chat functionalities as "virtual dates". They are now a thing, as you can see from the dating in quarantine video series which went viral on Instagram (below).

What you don't want to be doing now as an advertiser is to put everything on hold now. This is not a time for hesitation or a "wait and see" approach, especially in eCommerce. Experts warn: retailers need to leverage all their assets to stimulate and sustain consumer demand — that includes maintaining and even boosting digital marketing efforts for the foreseeable future.

Review your content and creatives
This is the time to keep your users informed and entertained by boosting your social media presence, or writing more educational content, for example. Given that it's a very delicate time and mobile users are spending more time on their smartphones, they are also more sensitive and selective to the content that is being shown.

Now is the ideal time to review campaigns you are running and scan them for creative and written content. Might they need a refresh? Remove anything that is insensitive in your ads or messaging that is no longer relevant. For example, creatives of people in a group setting are not only outdated, but potentially triggering during social-distancing times.A study by Pattern89 revealed that imagery featuring people washing hands is six times higher than normal in social ads. Also, headline and body copy mentioning "Sports & Fitness" topics has quadrupled (from 5.7% to 21% of all ads) since March 12th. Consider including sports and fitness content to your campaigns, if it's relevant to your business.

Keep your customers and users up-to-date and provide support
It seems obvious, but it's important to remind them of your online presence, especially your app. Messaging strategies are more important than ever to continue to build trust and loyalty with consumers during the pandemic. Aim to keep your customers up-to-date with transparency, both on business developments, as well as any changes that affect them (from delivery times, to opening hours etc.)In a US-based consumer-study, 43% of survey respondents said it's reassuring to hear from brands they know and trust and 40% want to hear what brands are doing in response to the pandemic. Only 15% said they do not want to hear from brands at this time. This shows consumers have positive attitudes towards brand communication during the coronavirus pandemic. During self-isolation, interactions are becoming even more important, so use any opportunity to offer support and solidarity. Make it a priority to listen in to users' concerns and monitor their habits. This way, you can anticipate their needs, provide support and build trust. One way to do that would be to refine your ASO strategy and ensure that your app is easily found in the app stores, so you can support them during this challenging time.A word of caution: when sharing information related to the Coronavirus pandemic, strike a balance between too little and too much #covid19 content in your communications. Don't be blasé, but be aware that too much pandemic talk can put consumers off.

We hope this article was helpful! Are you looking for support to grow your app and manage your mobile performance marketing campaigns? Drop us a line at
partners@apptrust.io
.

We are currently attending
White Nights Conference
's WN Hub (22-30 April) to gain some gaming insights and network digitally.
Hit us up
if you'd like to connect!
Author: Elizabeth Marchetti